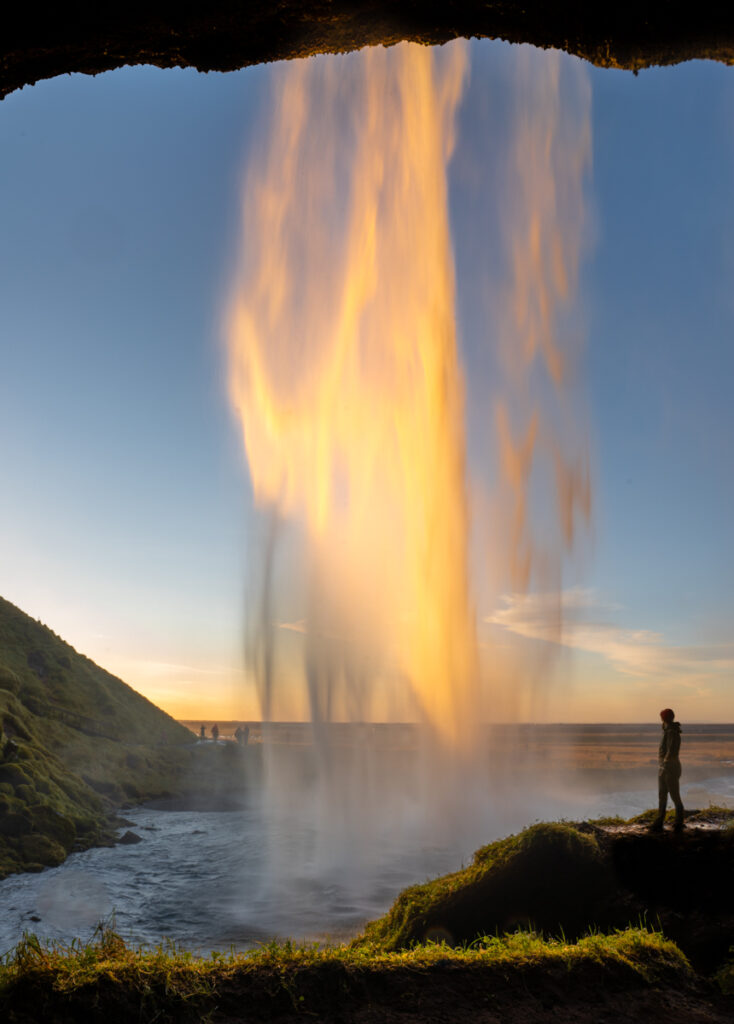 Iceland Ring Road Photo Adventure
with John Tunney
May 16-23
$4195-$4295
Maximum 6 people

Join photographer John Tunney and a small group of photographers for a 8-day/7-night photo adventure in Iceland, the magical land of fire, ice, midnight sun and…puffins.
The journey begins in mid May when the weather is milder and the days longer. We're heading into the time of Iceland's famous midnight. There are about 20 hours of daylight this time year, which gives us lots of time to explore this amazing landscape.
The adventure starts in Reykjavik, Iceland's capital. From there we'll travel around Iceland's ring road, heading along the south coast, then up into the eastern fjords, the north's arctic coast and Diamond Circle, down the west side and back to Reykjavik. Along the way we'll photograph mighty waterfalls, otherworldly canyons, glaciers, geothermal areas, mountains, fishing villages, puffins, lupines and more. Each night we'll stay in country hotels where we can relax and recharge and dine on the local cuisine.
Day 1
Arrive in Iceland. You'll make your way to our hotel where you can store your luggage, and then have the day to explore Reykjavik on your own. We'll gather that evening for our welcome dinner and to review plans.
Day 2
Today we head for Iceland's south coast. Along the way we'll stop to photograph Sejilandsfoss and Skogafoss, two of Iceland's most famous waterfalls. Highlights of the area are the cliffs of Dyrhólaey a puffin nesting area with views of the coastline, mountains and glacier, and Reynisfjara, the black sand beach with its rugged cliffs and giant basalt columns. We'll spend the night in the Vik area.
Day 3
We continue to head east to Skaftafell and the Vatnajökull National Park, Jokusarlon, home of the glacial lagoon with its floating icebergs, and the diamond beach. From there we visit Vestrahorn in the south eastern corner of Iceland and one of the country's most photogenic mountains – which si saying a lot. We'll spend the night in Hofn, a fishing village on the south coast.
Day 4
Today we head north along the east coast into the Iceland's eastern fjords where we'll photograph waterfalls, rugged coastlines and fjords, fishing villages and a major nesting area for puffins and other sea birds. We'll spend the night in the area.
Day 5
We start turn west today toward the arctic coast and Iceland's Diamond Circle. First, though, we'll visit Studlagil Canyon, a remote canyon where basalt columns line the blue-green glacial waters of the Jökla river. From there we head to Myvatn, a beautiful lake (said to be home to the world's largest population of ducks) in an active geothermal area. Many of the lake's islands are pseudo craters, depressed rings formed by steam explosions as magma flowed over water during volcanic activity. Nearby Dimmuborgir is an ancient lava field of twisted pillars of magma, caves and caverns, home to trolls and and scenes from Game of Thrones. We'll spend the night near Myvatn.
Day 6
Today we visit Dettifoss, one of Iceland's most famous waterfalls. We'll also explore Ásbyrgi Canyon, parts of the northern coastline just below the arctic circle, coastal cliffs home to puffins and other seabirds, the fishing village of Husavik, and Godafoss (waterfall of the gods). We spend the night in the area.

Day 7
We head back to Reykjavik on Day 7, stopping off along the way at historic settlements with turf houses and churches, evocative sea stacks, beautiful mountains, waterfalls and other scenic areas. We spend he night in Reykjavik.
Day 8
Depending on your flight departure (flights to the East Coast of the U.S. generally leave in the afternoon),you may have time in the morning to explore Reykjavik on your own or visit a spa and relax before heading off to Keflavik Airport with amazing photos and memories.
What's Included
– Seven nights hotel. You will have a private room with your own bathroom.
– Welcome dinner in Reykjavik and all breakfasts.
– Transportation from Reykjavik to country hotels and shooting locations
– Instruction (help with settings, landscape photography tips, long exposures, composition, etc.)
Registration
The trip is offered through the Cape Cod Art Center. Please click here for full details and to register.
Visit www.jtunney.com/iceland for pictures from previous trips.
# # #