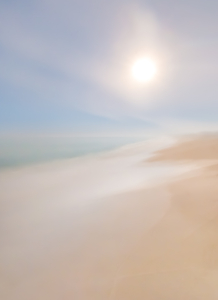 Working mostly with coastal subjects, John Tunney creates simple but compelling compositions that range from impressionistic land and seascapes to still lifes, abstracts and creative portraits of jellyfish and other sea life. He prints his own work using archival art papers and pigment inks, creating images that often have a look and feel similar to paintings and mono prints. The results have met with both popular and critical success.
A frequent exhibitor in art shows and festivals, John's award-winning work has been featured in a solo exhibition at the Griffin Museum of Photography, Winchester, MA, and in many solo and group shows in galleries and other exhibition centers. His book, The Four Seasons of Cape Cod, was published in January 2016. His images have appeared in Fodor's Florida, the Guardian newspaper, Cape Cod Life, Cape Cod magazine, the Cape Codder and in ads, brochures and websites.
As a photography educator, he's created and taught programs for Cape Cod Art Center and other organizations. A former board member and past president of the Cape Cod Art Center, he helped found and lead its Photography Center of Cape Cod and the annual Click! Photography Conference.