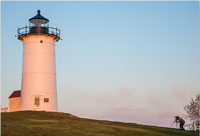 Nobska Lighthouse, Woods Hole
Nobska is one of the Cape's most popular and photographed lighthouses. it sits high on a hill overlooking Vineyard Sound with views out to Martha's Vineyard. It offers decent photo potential most of the day with the best light late in the day toward sunset.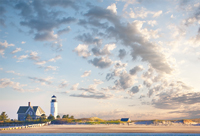 Sandy Neck Light, Barnstable
Now privately owned, Sandy Neck stands at the entrance to Barnstable Harbor. There are some nice views of the lighthouse from Barnstable across the harbor. For closer access, you'll either need a boat or to walk about six miles along Sandy Neck.
Chatham Light, Chatham
Chatham Lighthouse looks out over the entrance to Chatham harbor. There's a chain link fence around the lighthouse grounds, which can inhibit photographers. The sun sets behind the lighthouse, so light is best from sunrise to mid-late afternoon.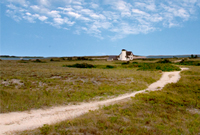 Stage Harbor Light, Chatham
This topless privately lighthouse marks the entrance to Stage Harbor. it's about a mile-long walk from the Hardings Beach parking lot to the lighthouse. There's a chain fence around it, but you can still get some good shots.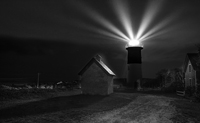 Nauset Light, Eastham
This one is in the Cape Cod National Seashore. Although the light is functional, it is located back from the coast near Nauset Light Beach. Parking is in the seashore parking lot. If you want to avoid paying the seashore entrance in season, go early or late in the day. It's a good morning shoot, but ha potential any time.
Three Sisters, Eastham
The Three Sisters lighthouses are nestled together in a park like setting behind Nauset Light. Interesting structures and history, they don't have the typical lighthouse feel due to the setting.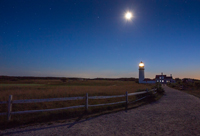 Highland Lighthouse
High on a cliff and surrounded by a golf course, Highland Light offers great shots any time of day. The nearby Highland House also has photographic potential. There's plenty of parking.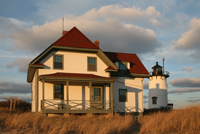 Race Point Light, Provincetown
It's a beautiful lighthouse in a fairly remote area popular with surf casters. You'll need a SUV or walk the two miles along the beach or through the dunes to reach the lighthouse.
Wood End Lighthouse Provincetown
It's a beautiful spot, but tough to reach. Without a boat, the only way to get to the lighthouse is to walk about a mile and a half along a stone jetty. The first hundred yards are easy to moderate, but it becomes much more strenuous the further out you get and requires a lot of scrambling and an occasional leap to cross the boulders. Watch the tide if you go. High tide covers the jetty.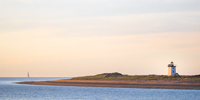 Longpoint Light, Provincetown
Longpoint rests at the tip of Cape Cod. You have two choices to reach it: Walk a mile and half along the stone jetty (see above) and then another mile or so to the lighthouse, or take a boat. If you don't own a boat, Flyer's Boat Rentals runs a shuttle during the season.